In this post, we will be discussing how flash Samsung android Phones/Tablets using a computer with a program called Odin. Anyway, before we go ahead
In this post, we will be discussing how flash Samsung android Phones/Tablets using a computer with a program called Odin. Anyway, before we go ahead with the tutorial, I would like to generally explain what the word "flashing" simply means.
What is Flashing?
Flashing in mobile phone repair is a word used by software repair engineers to refer to a state of restoring the original factory firmware setting (Factory Reset) by reinstalling a fresh or backed up copy of the firmware or by installing a custom firmware (Third Party Built) in the mobile device. Flashing can also be used to install only a portion of the entire firmware components or to install certain apps directly into the phone's Rom which will make them unable to be removed without a root access granted. In this post, we shall be covering only ROM or Firmware flashing.
Why Mobile Phones are flashed
The reasons behind people's decisions to flash their mobile phones varies among individuals. This may include the following;
To Fix major or minor firmware errors and malfunctions. So many times, we found our mobile phones malfunctioning due to certain firmware errors and bugs. Sometimes, partial flashing may be required to fix the problem while full flashing may be required in other cases.
To Unbrick a Bricked Android device. Some times, we brick our android devices when we try to carry out some operations on them like flashing a new firmware, rooting, incomplete factory resetting, installing and running of some root apps. When this kind of problem occurs, Flashing may be required to fix it.
To Upgrade/Downgrade an existing firmware version. Some times, we may lost the privilege to receive OTA software upgrade due to certain activities we perform on our device. For example, rooting and installing of a custom firmware. When this is the case, we would the to flash any new update in our devices.
To install a custom firmware. A custom firmware is a third party firmware built to be compatible with our devices and take the place of the stock firmware which is the original factory installed firmware.
etc
Now, Back to the business of the day;

How to Flash Samsung Phones with Odin
To Flash your Samsung Android Mobile Phones with Odin, all you need to do is follow the following procedures exactly as described and you would get the job done easily.
Requirements
Complete Flashing Guide For Samsung Phones Using Odin
Step 1: Download the required Samsung firmware and extract it to a folder on your computer.
Step 2: Download the Latest Odin version. Download it Here
Step 3: Open the downloaded Odin.

Step 4: Turn OFF your phone and then Power ON into Download Mode by pressing "Power + Volume Down" buttons together.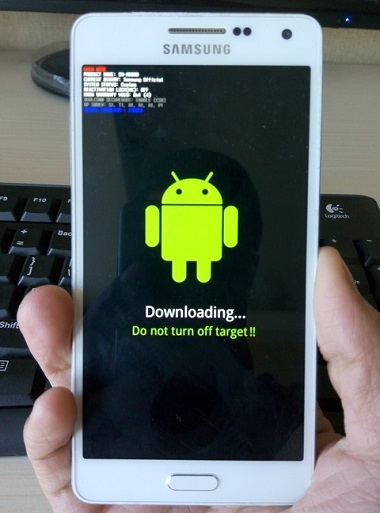 Step 5: Connect your Samsung Phone to the computer and wait until you get a blue sign in Odin.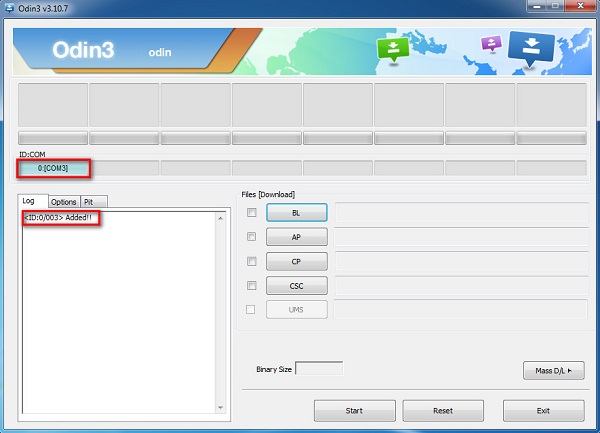 Step 6: Add the downloaded firmware file in Odin using AP / PDA button.
Note: Extract the zip file to a folder and add the tar.md5 file to Odin.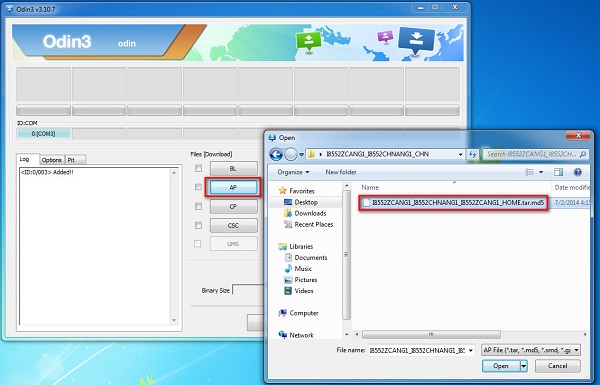 Step 7: Make sure you did not tick re-partition before starting the flashing process.
Step 8: Click on the Start button to start the flashing process.
Step 9: Sit back and relax with a cup of tea for a few minutes until the process completes. The Samsung Phone would restart automatically when the flashing process completes. Unplug your phone when you get a "PASS" message in Odin. It is that simple.